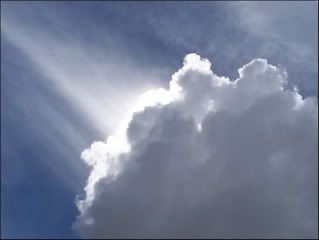 This morning I did not wake up at 5:00 am for my prayer and Bible reading time. I was very bummed. I set the alarm for 5:50 AM rather than 4:50 AM like had had been doing for two days now. I woke up at 5:38 AM and had to do the mad dash to get caught up with the morning routine without getting the opportunity to follow through on my deal with God. I will not give up though. I realize now that this is definitely something I can do, and it is definitely helping me. I am enjoying my moments of quiet with just me and God and then God, me and Joyce Meyer. :)
Speaking of Joyce Meyer, she is heading to Phoenix soon. I talked with one of our listeners at the station today, and we are going to drive up together to catch the first evening conference. I wish that I could go to all of them, but we have a lot of events going on at the station, and really the first night will be my only good chance to go. I am really looking forward to it!
:)
I am so excited to have found this time with God. I look forward to waking up tomorrow morning and spending more time with him. It really is THE best way to start your day.
Next week I'll begin my new weight loss plan. :)