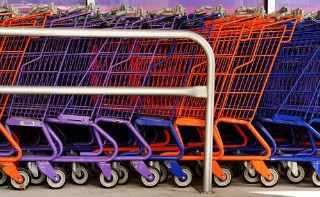 This is just what I work on every week for the radio station I work at. I post it on my blog and the station's blog. If you ever want to listen in, you can go to www.radioshine.org and listen on Thursdays at 8:05 am for these tips.
WEBSITE
Have you been looking for a motivating place with diet plans, support, nutrition and fitness help. An online community that is successful, helpful, and also free? Take a moment and check out SparkPeople.com. SparkPeople.com will help you develop a new lifestyle not just another way to lose weight by limits that are next to impossible to continue with. You can join a whole community but also take advantage of expert advise. The pounds are flying and SparkPeople.com. All you need is internet access which you can get for free at the library.
LINK: Sparkpeople.com
TIPS FOR REUSING COFFEE & GROUND AT HOME
Coffee Grounds. Not only is coffee amazing when you drink a yummy hot cup in the morning or a frosty glass of iced coffee in the evening, but it has many ways that it can be reused as well. Here are just a few things you can do with those old grounds. If you do not have coffee grounds ask around. Many restaurants or coffee shops will be happy to let you have theirs. Just pop in and ask.
1- Composting - Did you know that composting involves more than just dumping your scraps into a barrel? Apparently you need the right balance of green materials to produce nitrogen and brown materials to produce carbon. I honestly have no idea why you need both, but my friend you do, and coffee grounds are just one of the materials you can use in your composting pile that will produce carbon. Kashi's website (yes the cereal granola bar people) has some fabulous composting tips. It isn't too late to get started, and it is so much nicer than useless waste. Check it all out here: Kashi Composting Tips
2- Let the grounds dry and stuff into small paper bags, tie and put in places where odors abound. You can also put some in old stockings and stuff into gym shoes especially if you don't have more than one pair to switch out of so you can get rid of the funk. This is also great for taking odors out of the car. Dried flavored coffee grounds will make the car smell exceptionally great. Pop some into the refrigerator and freezer too.
3- Use to exfoliate your skin. I have put used coffee grounds into an old jar or container and use them to exfoliate my hands and feet. You can use it as a body scrub as well. I have even found this as a way to boost a tan in the summer as it gets dry skin sloughed off but also adds a very light color. Your skin will feel absolutely silky! Guys, it can't hurt you to try this as well.
4- Several sites have recommended soaking the grounds in water overnight or longer and using the colored water as a wood stain.
5- When planning to cook onion or fish, set aside some of your used coffee grounds to scrub your hands with to eliminate that fishy or onion odor. Yes, lemons work as well, but then you have to waste a lemon.
6- Coffee grounds are a good fertilizer for acid loving plants like blueberries, carrots and melons. Check with your local garden center to be sure that you are putting your grounds with the right plants (I have heard yes and no when it comes to tomatoes) as well as the ratios to follow.
7- Soak the coffee in water and use the liquid as a dye for material.
8- It has been said that you can sprinkle old coffee grounds in your garden to keep pests like ants, slugs and even cats away. If you have dogs or puppies stay away from this as it can make them sick.
9- This is for leftover coffee though for me there is no such thing and I love iced coffee. Still you can use leftover coffee as a meat tenderizer.
10- If you have dark hair, you can rub used coffee grounds into your hair to stimulate the scalp and add shine. Lighter haired individuals should not try this as it can stain the hair.
11- I read about using the coffee grounds to dye Easter eggs for a natural look, but I was thinking you could pretty much take care of that by doing brown eggs. Still, if you would like to try it, you would do the same staining process with soaking the grounds overnight in water.
12- If you have a fireplace, you might want to sprinkle used coffee grounds over the ashes before cleaning out the fireplace. They will help minimize the dust that can be flying about.
13- Another way to use leftover coffee is to put equal parts of coffee and sugar in a pan and boiling it down into a syrup. This may seem weird to some, but back in Rhode Island, coffee milk and coffee syrup was hugely popular. In fact, I just may have to use some of my stored up iced coffee to make my own.
14- Speaking of iced coffee, brew a second pot of coffee using leftover coffee grounds and use the lighter coffee to make ice cubes to put in your iced coffee drinks. They flavor will be less diluted this way as the ice melts.
15- Mix coffee grounds with your carrot and radish seeds when planting to help their crop grown and keep pests away.
FREE PHOTOS
Create a free Walmart Photo Center account and you will get 25 free 4 x 6 photos in your welcome email. OOOH I didn't mention that these were one hour prints. There are also other great reasons to join like free shipping to the store and photo storage too. At the very least, how can you pass up 25 free prints? I'm sure you have some pics you would like to print for free.
LINK: Walmart Photo Center Account
FREE MAGAZINE SUBSCRIPTION
Living The Country Life, I believe that this magazine subscription is quarterly. I get it and it really has some great information for people who like gardening and things like that. I have found some great tips in the issues that I have received in the past. Because it is quarterly, do not expect it to arrive right away. Sign up while supplies last. I just got the latest issue so I am not sure exactly when the next one will arrive.
LINK: Living The Country Life
Got a new baby in the family or are you expecting? Sign up for a free subscription to Baby Talk magazine.
LINK: Baby Talk Magazine
Another fabulous subscription for those with new babies or babies on the way is American Baby.
LINK: American Baby Magazine
FREE MUSIC DOWNLOADS
FreeCCM is offering free downloads this week from Building 429, Skillet, Todd Agnew (Christmas), Phillips, Craig & Dean (Christmas), 33Miles (Christmas), Stellar Kart and Decyfer Down.
LINK: FreeCCM Music Downloads
New Release Tuesday has free song downloads too including "Come to Me" by Bethel Music from their album "The Loft Sessions," "At Your Name" by Worship Central from their album "Spirit Breakout," "Even Here" by Rachel Chan from her debut album "Go" and "Take Me Home" by Hollywood Holly from his album "When Super Meets Natural."
LINK: New Release Tuesday Free Music Downloads
Sign up for Hear It First and you can get a free song download every week emailed to you as well as lots of Christian music news, videos, and deals. I do want to let you know that they will email you with deals and new release news. You wont get a bunch of junk mail, but you may get more than one email a week. I like them very much though.
LINK: Hear It First
GROCERY DEALS
FRY'S
Entire Selection of Fresh Pork 50% Off
New York Strip Steak USDA Choice, Bone-In, Beef Loin Family Packs $4.67 lb (limit 2)
Red Seedless Grapes 88 cents lb
Fry's Milk Whole Vitamin D, 2%, 1% Lowfat, or Nonfat Gallon sizes $1.57 (limit 2)
Doritos 11-11.5 oz $1.99
Dole Premium Classic Salad Select Varieties $1.00 each
Anjou or Bosc Pears 99 cents lb
Navel Oranges 99 cents lb
Bananas 57 cents lb
-GAMEDAY GREATS BUY 10 SAVE $5 (all the prices reflect the $5 off when 10 are purchased)
Mission Soft Taco Tortillas $1.9
Lay's Potato or Kettle cooked Chips 8.5 to 10.5 oz $1.88
Ragu Pasta Sauce 16-26 oz Select Varieties 99 cents
Marie Callender's Entree Select Varieties 8.5-19 oz $1.88
Healthy Choice Entrees Select Varieties $1.88
Philadelphia Cream Cheese Select Varieties8 oz $1.29
Kraft Deluxe Macaroni & Cheese 15 oz or Velveeta Shells & Cheese 10-14 oz $1.49
Welches Essentials or Light Grape Juice 64 oz $1.99
Hebrew National Beef Franks Select Varieties 11-12 oz $2.99 each
Advil Pain Reliever Select Varieties 20-24 ct $3.34
Edge or Skintimate Shave Gel Select Varieties 7 oz $1.49
Blue Diamond Almond Breeze Beverage Select Varieties Half Gallon $1.99
SAFEWAY
Whole Pork Shoulder Blade Roast Bone-in, Sold in the bag $1.29 lb
Swai Fillets Farm raised, previously frozen $2.99 lb
Imported Red Seedless Grapes 99 cents lb
Russet Potatoes 49 cents lb
Safeway Apple Juice 64 oz $1.99
Barilla Pasta 12 to 16 oz 10/$10
4 lb Bag Safeway Oranges $2.00
Sweet Navel Oranges 99 cents lb
FRIDAY SATURDAY AND SUNDAY ONLY
Red Delicious, Gala, Fuji or Granny Smith Apples 99 cents lb
Ken's Salad Dressing 16 oz Select Varieties 2/$3
Deli Counter Meat or Cheese - Turkey, Ham or American $4.99 lb
ALBERTSONS
Petite Sirloin Steak boneless $8.49 lb 1/2 free
Assorted Pork Loin Chops Bone-in Family Pack $1.88 lb
Pork Rib Racks Bone-in $1.99 lb
Pork Sirloin Chops $1.99 lb
Coke 12 pk Select Varieties Sale Price 4/$13 with $25 purchase 4/$10
Michelina's Entrees 4.5 to 9.5 oz 10/$10
Purple Eggplant 77 cents each
Large Navel Oranges 99 cents lb
Red, Green or Romaine Leaf Lettuce 99 cents each
Banquet Value Meals 4.66 oz - 10.25 oz 10/$10